Wheels 'n Windmills Car Show Solvang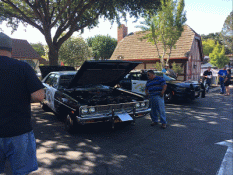 August 26, 2017
The Wheels 'n Windmills show in Solvang is a semi local show for me and I wanted to take the car to it. The show has a limited entry to 300 cars, I got in at 278. I requested to be parked next to the CHP spot and they were able to do that.
A friend of mine was taking his 1970 'Cuda 340 4-speed and we met up at his house and headed there, at the check-in we got in line and like clockwork the cars were processed, very well organized show. I get the car parked and start cleaning and people start swarming, sometimes a bunch sometimes a few but always somebody. The car was entered in the 1960-1980 Ford/Mopar/Other class, I never had the chance to get out and see the other cars in this class or others, just didn't see the show.
In the end I ended up walking away with a second place trophy.