Forward Ho! (2)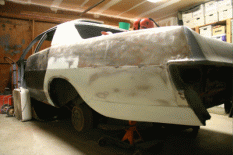 September 19, 2012
Even though there was a little more time today to wok all that was done was some additional work on the quarter and fitting the left rear door. One of the things that took some time was the patch over the wheel well needed some extra attention.
Things should really start moving now that the rust repair is good as done.
September 30, 2012
No new work has been done because of a business trip and we're scheduled to resume on Monday the 1st. Updates should be back on track as well, some computer issues had to be resolved.