Back on the Road! (Sort Of)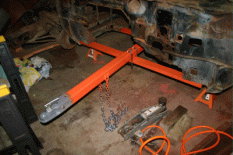 September 27, 2011

Well I know it has been quite some time from my last update in part because I need to get the car to class where I can work on it. The class is at Allan Hancock College in Santa Maria CA about 25 miles from my house in Lompoc. When I was working on my Barracuda I used a friend's trailer and my brothers truck a logistical nightmare. I now have my own truck and living in an association I needed to come up with a different way of getting the car to class.

This idea was first conceived when I was working on the Barracuda but wasn't practical. The assembly is quite simple, a 3" angle in the rear bolted in the factory frame location with the frame hardware, a 3" channel across the front and the 3" tube add a pair of custom u-bolts and homemade tie plate. The electrical was connected into the factory harness to the factory taillights, plate mounted along with a light. All topped of with current registration and insurance (making it legal in California).