Is There a Welder in the House?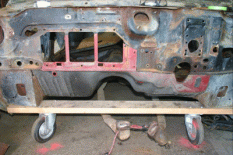 July 23, 2011
The front floor has been fitted. After a little planning I made the initial cuts in removing some more of the car in the area under the ac box, this area was rusted and I felt it could easily be replaced with the floor section.
Because the floor being installed overlapping the original floor it needed to transition to overlapping the firewall on the other side as well as being a butt weld in some spots. With a couple slits I was able to make the transition. The initial fit was close and needed a very minor trim to get it in. Once in I sat on the inside and kicked the floor panel in as tight as it would go and I was quite happy with where it ended up. I do have some extra material in the steering column area to clean up other than that it is ready to weld in ( I'll probably have it blasted first).