Chime In!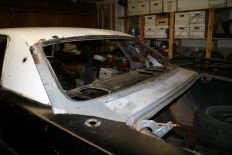 November 22, 2011
This is a post to let those who have bookmarked this car and not my homepage know that I'm moving the journal to a forum on my server. I thought it might be fun and give the fans the ability to comment on my work.
UPDATE: 02/08/13 - Forum Closed
You can view the post without signing up but if you want to comment you will need to sign up.
October 27 - November 17, 2011 - Class work continues
The car has been taken to class a few times now.
The work is focused on getting the rear window installed, so the floors will wait. The thinking is that I want to maximize the use of the class and that is to get the car painted and the floors can be done later if needed (although I doubt I'll need to worry about that)
Both wheel well tops have been rebuilt just need some mud work.
I worked on fitting the rear window section. I still needed to trim the edges back more to leave only 3/8" for the flanging tool, trimmed a few areas of conflict and had it fitting real tight, still can be better.
I need to support the trunk gutter and lock it in place, put the trunk lid in and position the window section. With everything properly position I'll then put a handful of screws it to hold it and realign it when I pull it out.