Trunk Assessment (2)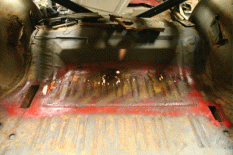 April 26, 2011
First up I needed to remove the gas tank. After breaking all the dried up fuel lines I pulled the first bolt, no problem just spun the not off with little effort, not so lucky with the second one, snap. Tank down, I went to carry it out and noticed that there was still about a gallon of gas in it, yes gas not water. The tank is in decent shape but I will probably swap it out with another I have that is in very nice shape.
With the tank out of the way I was clear to cut away at the trunk floor. Part way through I hit a tough spot so I slipped under the car to see what might be there and a few braces were in the area so I went at it from the bottom, for once I was able to rest while I was working.
After I cut away the main area I finished cutting some of the other bad spots out. The top of the wheel well seems like an unlikely place to rust but the debris from the rusted body just held the moisture. The roof support still has rust on it, I'll probably treat it and leave it be, it's not seen and in a very difficult area to get to.
Looking at the spots that need repair I may look at the idea of just using plain sheet metal but for now I'm still looking for patch panels.