In Your Own Back Yard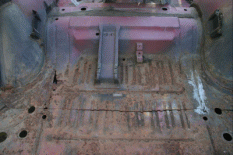 April 30, 2011
After looking at the car and seeing that the center section of the trunk floor should work to fix the forward area, I went out and took a second look at the parts car I have in the yard.
First thing I saw was that I started to cut this car up (well before I even knew about my CHP car), either way I looked at it and noticed that the area that I need might be good. Broom in hand I cleared the debris and to my surprise it looks like it will work, I still need to take a sander to it and see how solid it is but overall it looks good.
One of the other patches I need looks like I will be able to get it from this panel as well. The two other pieces I should be able to get as well.
I also looked at the wheel wells to see what is needed to cut them out, this car was a hardtop so the structure on top is different but shouldn't make a difference.