The Inside Scoop (2)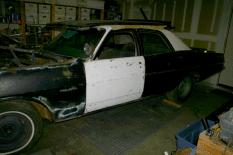 September 1, 2010
Again not much time spent, I did get a new shop-vac and did a thorough cleaning of the trunk and started in on the interior. With all the granular cleaned up the rust problem better showed itself. Even though the rust is more than I had originally thought it is still manageable.
September 2, 2010
This evening I was in class but did have time to remove the headliner and finish the vacuum job.
In class I had the driver door and with the help of a friend we removed all the auction black and gutted the door, the hinges fought us a little.