Holey Rusty Floorboards!!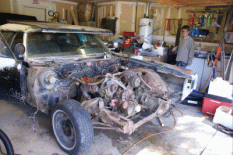 September 5, 2010
Ron came to help with the car this weekend and we had no idea how much would get done. We started off with getting the front seat out of the car then moved right onto the front of the car. For the most part everything went well and only a few broken bolts, inside of six hours the front end was pretty much bare leaving the motor exposed.
In this time another friend came by and checked to see if the motor would spin, even with a large breaker bar it would not budge, it will be coming out soon.
Having the front largely done I wanted to pull the front floor mat out and get a look at the sheet metal under it knowing it would need some work from what could be seen from the bottom. With the mat removed it quickly became apparent that I was going to need much more than a small patch, almost the full front floor will need to be replaced, good thing I have a parts car with just that section still in great shape.
Before wrapping it up for the day we went out to the parts car and finished stripping it down, even though the body has already been pretty much cut up there was a portion still attached to the frame, needless to say I didn't check the placement of the jack stand and ended up dropping the end of the frame on my finger, after a short break and a Band-Aid I was back at it.