Family Says Good Bye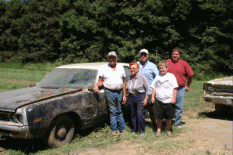 August 22, 2010
For the last three months I had been thinking of everything I might run into on the day we picked up the car. Everything from spares to rakes and shovels, in the end I only took some tools and the spares.
First thing I needed to do was reserve a trailer, in calling I was told it was a small trailer so I went and measured it, with the ramps removed it'll fit with only 2" on each side.
Truck and trailer loaded we headed out at 6:30 with a three and half to four hour drive, little over two hours in we missed a turn which put us 30 minutes later than planned. Ron met us at the ramp and followed us in. Upon arrival we saw that they had already had a forklift ready to pull vehicles out.
Right away we set out to air up tires on a car that needed to be moved then onto the CHP car. I climbed in and with guidance I steered the car while it was being pulled in reverse, once clear of the other cars the lift was repositioned and the car pulled to the trailer, again adjusted and pulled the car onto the trailer.
An additional hubcap was located making a complete set. We took care of paperwork and collected up the second set of keys which had the original CHP key tag still attached, how cool!
On the road we stopped a few times and each time we had to tighten the front straps because the front tires were losing air.
Back in town we went by the local self serve carwash and gave the car a thorough washing including under the hood. The car started looking more like a police car as the layers of dirt came off. Even after 20 minutes there was still dirt under the hood.
From there we swung by a gas station and aired the tires ones again so we could unload the car. Because of the incline we needed to wench the car off the trailer. Hose down the trailer and call it a day, twelve hours after we left.