Hell Yea!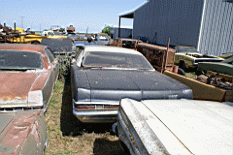 May 8, 2010
In April Ron and I were at a car show, he was there with his 69 CHP Polara and I was over in the swap trying to earn some restoration funds. I get a call from Ron asking if I was interested in the real deal, a true CHP 1969 Dodge Polara, like I need to give him an answer. I proceeded to let him know it was all about money, what does he want and how much do I have.
The way I understand it this person comes up to Ron and says "I have one of these", (not sure of the full proper conversation) Ron returns "are you sure?" as most people end up having a civilian car, different year, or agency. He assures Ron that what he has is a genuine CHP 1969 Dodge Polara.
A few weeks later Ron goes to look at the car (three hours away) and reports back to me that it is real and gives me the phone number. A few weeks later I made arrangements to see the car and talk with the owner.
My personal observations were very good. The car did appear to be more dirty than anything else, yes it has issues but solid overall and it was a genuine CHP unit.
While there I asked how much he was looking to get, no response so I ultimately had to put a number out there. I gave him what I felt was a cut to the chase offer which was fair to both of us. We talked for a little bit more and I told him it would take me several months to save that amount and I'd be in contact then to see what he thought of the offer.
Also onsite were three other Monaco/Polara cars that he indicated he wouldn't need if he was to sell the CHP car. The Monaco was a parts car but had a HP 440, a four-door hardtop and another Police car that was CHP spec car purchased by another agency.
Over the next two and a half months I realigned my finances, sold some stuff on eBay and just curbed all unnecessary expenses. In record time I had the money in hand. Having the cash I now felt like I was in a position to call him back, till now I was thinking of every conceivable response and potential ways I could handle them.
August 17, 2010 cash in hand I called and inside a five minute call I had a car!