It lives!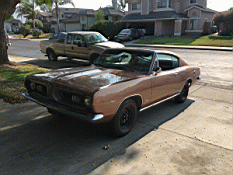 August 25, 2018
The day started with my friend coming over and going through the carburetors and with his help I chose to use the factory original one. While he cleaned it up and rebuilt it I needed to run out and buy a distributor as he felt the one I had was worn out. When I returned he was finishing it up, he ended up needing to swap the base plate from one of the other carburetors. The two tags were added and it was done.
The carburetor was then installed and all the lines and linkage hooked up. We then moved onto the distributor and plug wires.
With everything ready the fluids were checked and the carburetor primed with gas. All set the key was turned and ultimately the engine came to life. Once it was running all the adjustments were set and the break in procedure done. Once we were happy the car was put in gear and rolled out, a quick test run was done and we returned for a couple adjustments. Now happy we set out to put it through its paces and check oil pressure with the current grade of oil.