Fresno Open House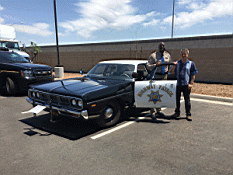 June 5, 2018
Last year I was asked about bringing the car to the open house for the new CHP office in Fresno, well they are finally done and the event scheduled for tomorrow. The drive went well with no noticeable issues, before I checked in I stopped for a burger at one of my favorite chains, The Habit Burger Grill. I was lucky to be able to park the car away from other cars.
The hotel was right next door to another CHP office so a quick picture and over to the hotel.
The next day I make the drive to the Fresno office and get a picture out front but for some reason it didn't come out. I check in and they park me inside, there were a couple cars already there.
The car was well received being that was originally a Fresno Area car. Later in the day I was able to get with the recently appointed Commissioner and get a picture with him at the car.
The day ended with a pleasant drive home.