Mopar Alley - 2017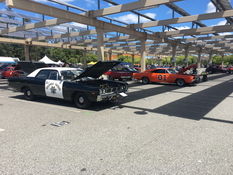 June 11, 2017
The morning started off with arriving at the show to find a line for registration, that is a first, normally I get there and pull right up to the table. I resister in the Emergency class and roll in, I get the area to see a sign for Special Interest and Emergency with a General Lee already parked there. I park and get the car setup then on the enjoy the show.
We were the only two cars to enter in this class and I wasn't sure how that would translate to judging. This show is a participant people's choice so anything could happen. At the end of the day I go up and watch the awards till they got to us and the announcer made a comment about there only being two cars in the class and in 2nd place with a '69 Dodge... (both cars are 69 Dodges)... Polara. Dang I lost to the General Lee. While up there they asked if we could bring the cars up for pictures.
I get back to the car and fire it up, he fires it up and rolls off whistlin dixie so I flip on the red light and roll the siren as we rolled up to the front.