Thanks & Brakes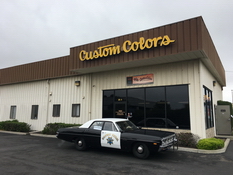 May 10, 2017
Today was all about thanking some of the vendors that helped me throughout the project. The first stop was Magneto Electric in Santa Maria, they rebuilt my Leece Neville Alternator and services the siren. From there I went over to Custom Colors, a body and paint supplier. After that I headed over to Allan Hancock College where I did much of the early rust repair, the instructor I wanted to see wasn't there either way I stayed and talked with some of the students that were there.
After a quick lunch break I headed over to the CHP Santa Maria Area Office, the PIO hadn't seen the car with the graphics on it. While there he asked me about a parade in a few weeks. From there I had a 30 mile drive to Buellton where I first went to CIP Powder Coating where the staff was very appreciative as they rarely see the finished projects. A short hop away is the CHP Buellton Area Office where I spoke with the new PIO, from there I headed home.
All day I was driving with the driver door window open and kept hearing a jingling sound that I thought might be coming from the brakes but everything seemed to be working. When I got home I didn't hesitate to get the car on jack stands and check the brakes. I initially checked the front thinking I might have a piece of gravel stuck in the backing plate, nothing. On to the rear, soon as I got the drum off I could see the problem. The adjuster screw came apart and the cable was broken. At this point I felt I needed to look at the other side and there I found the cable had come unhooked and was about to break but the screw was still in place.
New parts will need to be ordered so we'll have to wait to see what the cause might have been.