Sailing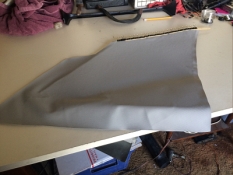 March 9-17, 2016
The sail panels from the other Polara were used, the green vinyl was removed and used as a template one the material that came with the headliner.
The point where the sail panel meets the headliner just didn't look right, after some looking through pictures, the original headliner and sail panels I was able to reconfigure the vinyl and fix the funky spot.
Some of the clips were either pulled off the panel or didn't line up with the car so Velcro patches were used, for the most part the panel was already formed and held itself in place.
While working on this the new washer "Y" and tubing came in so I used an old hood to size everything.