Is It Insulation or Installation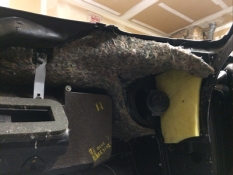 March 6, 2016
Like mentioned previously I realized I should have done something earlier, this time it was the dash insulation. I did get it in.
With all the preparations done I had a friend come by to help me with the dash installation.
It took some effort to get everything hooked up but it was done.
The day was wrapped up with getting the hood insulation put in.