Rat Nest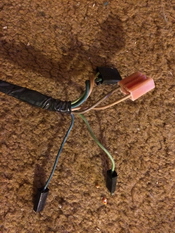 February 22, 2016
On a car where you know there are "correct" electrical modifications when you see something you need to look into it.
The dash/ac harness from my car had a tapped up connector with a jumper and removed terminals.
Looking into this I found this to not be a CHP modification for one it isn't noted in the wiring diagram I have. I did have friend with another 69 CHP car look at his that was out of the car. I had another harness to swap in (this was the AC sub harness).