Rear End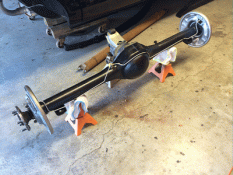 January 16, 2016
My friend came over today to help with the rear end. The center section was put in after a quick break to get the correct gasket, from there the brake backing plates were put on and even checking I somehow had them swapped ( realized before putting the axles in).
With the backing plates swapped the axles were put in, he knocked them both a couple times before setting up the end play. For now it was set by feel, he may check it later with his gauges.
With that done we were ready to get it in the car. First the pinion snubber was put on and then we put the front spring hangers on the springs, although both springs were the same we looked and before picture to determine which side they were originally on as the front bushings were not centered on the spring. The front spring hanger was attached to the car then we rolled the axle in and worked the u-bolts in, once those were in-place (loose) we added the rear hangers and lifted them into place. With everything located all the nuts and bolts were tightened.
I wrapped the day up with getting the wheel cylinders installed. For some reason the replacement cylinders have smaller mounting bolts (not even sure what size, maybe even metric). Either way I drilled them out and tapped them to the correct size.