Pigtail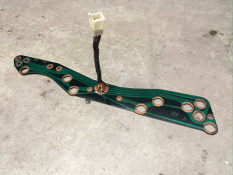 January 9, 2016
I never liked the circuit board connector used on the Mopars of the era so I chose to eliminate it. Some wire from an old harness was used to make a pigtail, the NOS board was missing half the pins anyway.
I have NOS switches for five of the six needed, the dimmer switch will be rebuilt as I didnít want to spend a shitload to get a new one.
The AC vents took a little work to install because of the restored pad. A heat gut was used to soften the pad and a metal bar to press the padding clear.