Assembly Required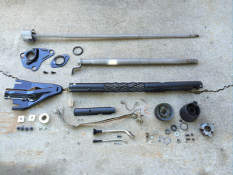 September 19, 2015
I thought I'd outline how to put a steering column back together, along the way I may make comments about the disassembly but for the most part you can just start from the bottom and work up. For starters this column had surface rust inside and out, every little part needed cleaning weather it was blasting or soaking in vinegar.
Slide 2-hole plate onto jacket
Slip O-ring onto jacket
Slide 3-hole plate onto jacket
Bolt pates together (placement not important, more to protect paint)
Insert shift tube into jacket
Grease and install lower bearing with 2 bolts
Insert shift spring in housing
Insert lever and press in pin
Install spring washer
Install shift housing, lube the inside of the housing where it meets the tube
Install gate on upper housing with 2 screws (mine never came apart)
Put housing mounting studs (square head bolts) through holes and install nuts loosely (like only a couple threads)
Install housing, hold both nuts down and work both studs in place. I fount it easier to stand the column up, the side of the heads of the studs lock into the square pockets on the side of the column housing. This is a three handed job as you also need to hold the shift lever up
Lock down nuts, check shift for rotation
Slide steering shaft in, enough to expose both clip grooves
Install lower clip
Grease and install bearing
Install snap ring (I was able to push it on with a deep socket, no snap ring tool needed)
Install insulator
Slide shaft down to seat bearing
Install turn switch
Install turn switch plate with 3 screws
Install turn signal lever and screw, check operation
Install trough (switch wire cover) with 2 screws
Install switch connector
Install shift indicator. I was able to get replacement rivets from McMaster Carr, they needed to be trimmed about 3/32"
Install spacers on bracket
Install bracket with 4 bolts
Column is ready to install, the lower plates and upper mounting brackets will need to be locked down once adjusted to column placement once installed.