Compressor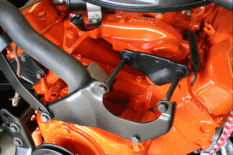 December 14, 2014
With new AC parts on order I wanted to get the brackets and hardware all mocked up so I would be ready to install the new parts when they came in. A couple things came up, one it looks like I may have an incorrect bracket as it doesnít line up with a mounting hole and the other is the pulley that was on the car was not correct. That being said I needed to track down the correct parts.
After a road trip to the previous owner I was able to acquire a complete compressor off another 440 Polara that he had. This compressor had the bracket and the correct pulley. In addition to the AC parts I spotted a spark plug wire bracket that my car didnít have and what looked like a good washer bottle.
First thing I wanted to do was verify that the bracket was indeed correct, I mounted the recently acquired unit on the car and everything lined up. It turns out that I just needed to loosen some of the mounting bolts to get everything to line up.
So all I ended up needing was the pulley and a tag off the compressor. I started removing the pulley but was met with some resistance. The coil that should have remained on the compressor was rusted in the pulley, I ultimately ended up breaking the assembly free and set out trying to separate the coil from the pulley.