Progress!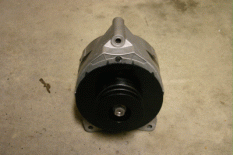 November 13, 2014
The original Leece Neville alternator was sent out for rebuild and came back looking almost like new. With the engine in the car some of the engine related parts could go on, the front pulleys and alternator were all I was able to do.
I wasn't happy with one of the transmission cooler lines so I pulled it out and fixed some of the bends, now it clips in as it should.
Now that the engine and transmission were in the car I could put the core support back on, the fenders are still loose but at least they are supported. Once the hood goes back on we'll lock the fenders in place with the adjustments.