Parts Assessment, with Parts Going On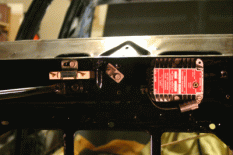 November 4, 2013
Nothing is ever simple even simply installing a few components. With the recently cleaned and painted hardware I set off to install the voltage regulator and ballast resistor along with a junction block. First up the ballast resistor wham, it is in after double-checking the other car on location on to the voltage regulator, I had to first clean the holes as they were filled with the rust encapsulator that I put in the plenum, done, installed. I had a screw for the engine ground wire so I put it in and then went on to the junction block? Hole was too big? After digging through a bunch of picture of which none were really all that clear I noticed that the engine ground wire was on the same mounting as the block, done!
For quite some time I have been making references to trunk seals that they sell not being like the factory installed ones in that they had a flange that hanged down. A couple weeks ago I spotted one on ebay just looking for a trunk seal that would be long enough, needless to say one was acquired. I did a test fit and found that the flanged areas all lined up as they should but the overall length was a couple inches too short. The seller was contacted and a replacement was sent, perfect!
While on the topic of parts I received the rear body harness back from being wrapped after the test fit, I need to look at the one in my other car to see how the clip the holds it to the side was attached, the harness doesn't have one. I also recently had the forward lamp harness made and it is perfect down to every detail, when I saw the cloth wrap in some areas I needed to look at the other car to see, correct! For some reason they needed to reuse a couple connector housings, not sure why but who cares, they are hidden.