Parts Assessment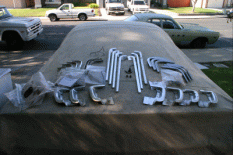 November 3, 2013
I set out on a couple projects today, one was to collect the aluminum trunk trim to be sent out for polishing, and the other was to start cleaning up parts that mount on the firewall.
First I collected most of the parts and the spares I may have had, I didnít dig out the A/C boxes or the brake boosters and pedal assemblies as I know they need a lot of work or will be replaced. Other than collecting up all the parts including the small stuff like voltage regulator and clips not much else was done.
All the hood and taillight trim was collected and gone through to find the best ones to be sent out; a set was selected and set aside. With that done I collected up some of the hardware to mount some of the small stuff and cleaned it up, a coat of paint was applied and they were set aside.
I have a couple NOS replacement voltage regulators and both were missing the capacitor that the original had. It was removed and cleaned up. I went to put it on the first regulator I picked up and realized it was missing the connecting tab. I first thought that I could use the tab from the old one but one of the mounting screws was being temperamental (likewise on the new one). The screw needed to mount the capacitor was missing so I looked at the other new one and the old one and noticed that they all just had one screw so I just moved it to the other side, which was when I realized that the other new unit had the needed connector.