More Rust!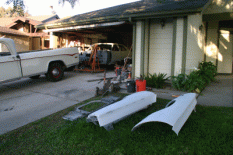 February 16, 2013
Today was the FINAL blocking and we are ready to pull it apart. Once we get the doors off the jambs and the inside of the doors can be sanded and prepped for paint. The hood and fenders have been pulled and they will need inside preparations as well.
Having the front off I was able to put the tow bar back on. I felt this was a good time to rearrange the garage and move the car over to where it will go once it is painted.
On the negative side a friend came over that needed some door striker shims and came prepared to remove them from the parts car. No problem but while he was here I felt I might as well remove the strikers from my car as well. The first three came off with no problems, not the last one. On the driver side rear door near where some of the worst rust was it was all crackle and pop. The retainer bracket was probably rusted out, the decision was made to cut it out and replace the whole piece from the parts car. This will be the first thing done in the next work session.