Fingers Crossed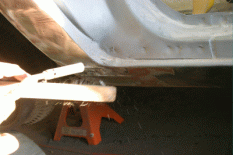 September 7, 2012
The evening started off with patching the bottom of the quarter panel forward of the right wheel opening. Like the other side there is a lead joint here something that I didn't know about.
Further work on the quarters revealed that the lower on the driver side portion was bad so off it came, an inspection was done on the inner panel and it was determined that it was ok. After seeing the inside of the panel that was cut off we chose to cut a 3 inch square inspection hole on the other side, the piece that was cut out was clean so we're saved.
The evening closed with repairing the shoulder belt mounting, the original riv-nut had broken loose so a new nut was welded to the plate and reinstalled.