It Is In!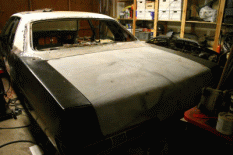 January 19, 2012
Everything from now on will be minor in comparison to what was needed to get this window in, from cutting away rust, fitting the replacement to finally welding it in. This was a long day that actually started the night before with treating everything I could reach with rust converter. With the rust converter kicked off I hit everything I could reach with primer and moved on to one last repair on the replacement section.
All the edges still needed to be cleaned and that took some time on the car. With that done I put the section in for the last time (at least I hoped so). Bumped, checked, bumped, checked, bumped, checked, bumped, checked, clamped, and screwed. By the end of the day it was pretty much welded in (on the outside).
I still need to finish welding up the outside and the inside has not been touched. Even with the section in there are still some patches that need to be done and additional repair work on the window channels.
Needless to say this was a big day.