No Backing up Now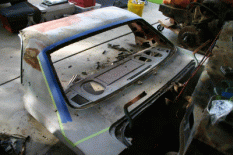 February 13, 2011
I pulled the replacement rear window section into the garage and mapped out the cuts as I had them on the car and then adding the extra as I planned. If all goes well it will come out in one piece inside and out all intact. I added some extra in the area where the antenna mounts to work in as reinforcement. Many of the cuts were in areas that were easy to replicate utilizing bodylines others I used the removed pieces from the car along with templates.
With everything mapped out I started cutting, by the end of the day I made it through everything but the trunk drain channel where I needed the Sawzall that I needed to get back from my Brother.
While at it I removed all the old window sealant where some more rust repair will be needed, this is an area on the car that was completely gone.