Rear Window Removal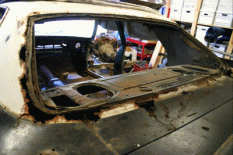 January 23, 2011
Well I'm back on the car, today was all about the rear window. Even before I started to work the glass out I was able to move it so I knew it wouldn't be that difficult. Basically I used a putty knife and worked my way around, for the most part I didn't even need to do the bottom as the frame was gone. As for the rest of it only about half of it needed to be cut free, the rest was loose as a result of the rust.
Once the glass was removed I was able to start cleaning. All the sealant was pulled out along with the interior trim, with that cleared I removed the gator teeth that is used to install the headliner. I then used a rubber mallet and knocked as much of the loose granules from around the frame and then vacuumed up the mess.
With everything opened up and cleaned I'm able to get a better look at the damage. The degree of damage really doesn't impact the amount of work as much as it dictates where the cuts are made. For starters I need to understand how the car went together, where the joints are, hidden braces etc. then I need to get a compressor.
These pictures don't even illustrate the damage that well, more can be seen in the gallery for this day here.