Swift Return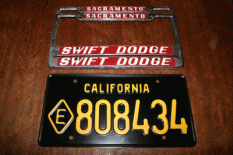 December 29, 2010
A week ago i got the reproduction license plates but they had sticker wells on them that the exempt plates didn't have. The vendor site showed the plates correctly and I know others got them, they were contacted and replaced the plates.
This is the number that was originally registered to the car when it was in service.
Swift Dodge was the dealer that got credit for selling the car to the CHP as the factory can't sell cars directly. The cars never had the frames on them but I thought it might be cool t have a set.