Opening Doors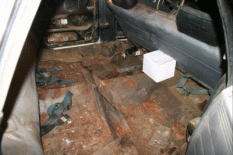 August 26, 2010
This evening the plan was to get the rear doors open. First the front seat was unbolted and moved forward to have more room to work.
With the front seat out of the way I was able to unload all the spare parts that were piled up in the back seat: four steering columns, four steering wheels, box of exhaust parts and another box of miscellaneous parts none belonging to this car. Once in the back I was able to force the passenger door open, not so lucky on the driver side.
The rear seat bottom was removed so the door panel could be removed. Inside I could see the rods moving and some of the latch levers but the door was stuck. Having another Polara (with the door panels already off) I was able to see a lever that could be pried to hopefully open the door. Although the lever only moved a little bit it was enough, all doors open now.
August 30, 2010
Started the evening out with the idea of pulling the radiator, after unbolting the shroud I started to remove the lower radiator hose and water started to trickle out so I left it alone till I could move the car and drain the radiator (4400 lb car doesn't roll well with one person).
With that on hold I decided to put a couple wheels on the front that would hold air. The driver side was protected with a hubcap so there were no issues with that one. Even before I started I sprayed the passenger side lugs with WD-40, the lugs started off ok till they needed to cross the threads that had rust on them. All five needed to be worked back on (not before spraying the studs behind them) the again off, this time they all came off. With the wheels off I was able to look at the front suspension, definitely will need some cleanup. A couple spares were located and for now it sits on four inflated tires.
Back to the engine. I found a small pump oil can and put some Marvel Mystery Oil in it and put a length of tubing on it and proceeded to pump some oil into each cylinder. It should have plenty of time to soak in by the time I get to trying to turn the engine again.