Road Trip! - Day 3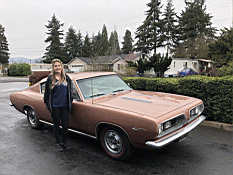 March 25, 2019
Day three:
As eluded to in my previous post I ended up in Springfield Oregon with the idea to stop by Graveyard Carz with the Barracuda and see the shop get a shirt and maybe meet them. I stopped by last night with the idea of getting a picture of the car in an unobstructed parking lot. I get there and there was a black Challenger parked out front, I park, take a picture and sit there a minute, nothing, left. If somebody was there either they were busy or didn't notice (it was Sunday, after hours).
This morning I went by and went inside, to my surprise Allysa was at the front desk. We chatted a little bit, got pictures and chatted some more. They were busy filming so the rest were not available as were shop tours.
Allysa was very nice to talk with and seemed to be glad somebody pulled her from what she was doing, apparently her mother normally handles the front office. She like the car, loved the color, surprised to hear I had just driven 1000 miles.
From there I hit the road towards my brothers in Astoria. From the point I left the hotel it was raining, much of this route is one I have taken in the past, I did take a little bypass to go through a small town I haven't seen.
I needed to go over a couple passes before getting to my brother's place, on the way I passed the "Snow Zone Carry Chains" sign, uh oh, just a little residue show from a few days earlier.
As I got closer to my brothers I hear the sound of a truck decelerate and I look in my mirror to see this truck a couple hundred yard back and closing, I find the first place to pull off and let him by, well timed he was never on my bumper and I didn't have to wait for him to pass, I couldn't keep up with him. Lots of tight (20-30 mph) turns that I didn't know.
Got to my brothers place in one piece.
I'm not sure when my return trip is or what way I'll be going. I may take a day trip or two while here, my nieces and nephew want to go for a drive.