Balance Transfer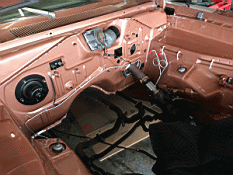 May 19, 2018
one thing I planned to do before having the engine compartment repainted was to paint the frame and wiper motor. With everything masked off the black was touched up.
Once the paint was dry the new brake lines were installed, the rear line was able to be done without even lifting the car or removing the wheels, not so with the fuel line.
The parking brake cable was removed enough to clean and paint it, at least what is seen under the hood.