Red For Now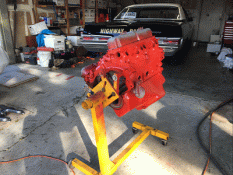 January 14, 2018
I finished up painting the engine and noticed that one head doesn't have the treaded hole used for the ground cable, so when we do the assembly I'll have to make sure the heads go on the correct side.
My lift plate will need some holes drilled for the 2bbl carburetor.
I'll paint the valve covers when I get a replacement for the bent one. I may end up with a nicer one for the other side so I'll hold off till I have a correct pair.