Quad Engine Barracuda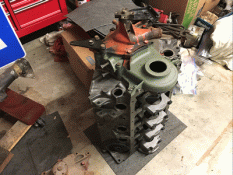 January 8, 2018
I have parts to at least four different 273 and some 318, most of the 318 parts are labeled for that so if there was a difference I knew why. The rest of the parts were sorted and inspected to come up with one good set that could be cleaned and repainted.
I had put the valve covers in my truck so I could have them sand blasted and later put a scrap engine block in the truck and it rolled over onto the valve covers damaging the one I only had one of.
The block was used to help sort the hardware for the timing cover and water pump, not sure it is correct but with the given pile of bolts it was the only combination that made and since.