Maybe This Year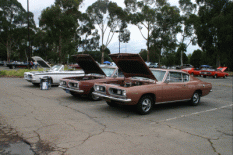 June 4-5, 2011
Once again I'm headed to a show that has eluded me. On the way I chose to take some back roads that at one time were the highway. It had been raining so the roads were filthy and that transferred to the car.
Once in town the rain had stopped so I got the car cleaned at a local self-serve car wash.
The show was fun, met up with my friend as I do each year and once again, no trophy.