Windows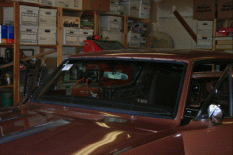 September 4-7, 2008
The plan is to have the windshield and rear window installed this weekend, first I needed to put the clips in for the trim. The trim is for a 68 and later can so there were no provisions for the clips, I needed to drill the holes.
The glass install went well aside from my mistake on locating trim clips, I put one dead center on the upper windshield frame but the joint in the trim is there and nothing to hold the trim in, we put some adhesive in and we'll see.
The install look much like a factory car would have, gaps under the trim etc. It is what it is.