Ripon - Friday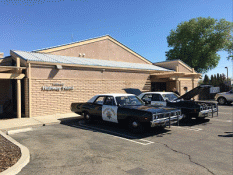 October 6, 2017
A week later and we are about to repeat the run hopefully with better results. Once again we head out and top off with gas and roll. The drive went great, two hours later we are back at the scene, no construction and the car is running fine.
We make a minor detour and drop by the Coalinga CHP Office where their few people came out to check out the cars. The rolled one of the Chargers out for some pictures and on we went. The next stop was a couple hours away, the Chowchilla scales have become one of our regular stops and again they were happy to see the cars.
After a brief visit we headed into Ripon and met up for the Friday night cruise, just lights no sirens.