Fuel Woes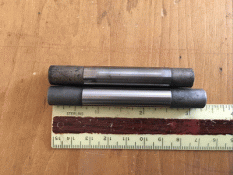 September 30, 2017
The next morning a friend came over and we checked the fuel system for potential sources of heat as yesterday wasn't that hot. Nothing was found so we did a flow test on the pump and it wasn't good, off to the parts store we go. Parts store A, nothing, Tuesday, parts store B, nothing, Tuesday, parts store C, nothing, Tuesday, parts store C, nothing, Tuesday… but our store 40 miles away has one, call them let them know we are on our way.
The new pump had a noticeably heavier spring in it and right before we go to install it we notice it needs an adapter, off to the parts store. Adapter added we install the pump and do a flow test, nothing not a drop? So we pull the pump and remove the push rod, at a glance it didn't look right so I call Ron and asked if he had one in storage, he did so I went and got it.
The new push rod was about 5/16" longer, that is a lot of wear for an engine with about 3900 miles on it. Assembly lube was applied to the rod and it was put in, pump installed and fired up. I drove the car for a little bit and got on it a few times with no issues (but it was only in the 60's).
My engine guy recommended I order a new rod from Summit that was a Blended Carbon Polymer, Chromoly Tip from Comp Cams.