Morro Bay Show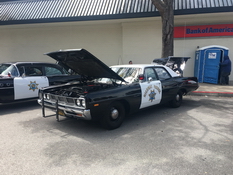 May 6, 2017
Out early to make the hour drive back for the show, just out of town we start getting the morning mist on the windshield not enough to need the wipers. It didn't take long for the mist to turn into rain, oh well we're in it now. For about half the drive it rained and cleared up about 10 miles from the show.
We arrive a little late and they place us in a spot, I wasn't even done swapping the plates when they said they wanted me to move, good thing, that was not a good spot. Car moved I proceed to get the prepped for the show. The prep took some time as people kept coming up and wanting to talk about the car, needless to say I got it done.
The wind was strong and it was cold, we were lucky that there was a building blocking the wind where we were setup. Throughout the day people continued to look over the car and want to talk. Award time came and we headed over to the trophy area, it turns out there is no formal judging and the trophies are sponsored. Each sponsor sends somebody out to pick a car, I ended up with the Foster Freeze trophy.