Identification Please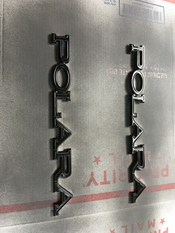 January 15, 2017
Now that the car is buffed out some of the final details can be done. The original emblems were cleaned up and repainted.
The person at CHP that put the numbers on the car and a unique style to it, having the original number on the door still I used a photograph and reduced it to the size needed for the front and rear. A tracing was made and punched with holes that would be used as a guide. A paint pen was then used to put the numbers on, in all I think the idea worked well.
Started putting the spotlights in.