Little Stuff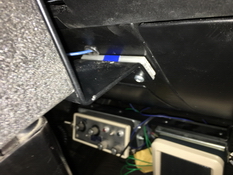 December 18, 2016
The first thing was to try and resolve the gun lock issue, the bottom two screws were removed and the bracket was pulled till the lock would engage. In the end a 1/4" spacer was tested and did the job, a 1/2" would have been better but I didn't like the way it looked. The proper way to fix this would be to make a new bracket but the top was bolted with double nuts while the dash was out of the car, not sure I can get up there with two wrenches to remove it.
The original spotlight hardware is not useable and the new ones sold are different, original/NOS need to be located.
When the spotlights were removed one of the screws broke, somehow it was overlooked. I started out masking the area off well beyond the screw just in case a drill skips and tries to dance. I started off with a Dremel to create a divot in the screw so i could drill into it, then it occurred to be, take a punch and knock it through, pop, done!