Paint It Gray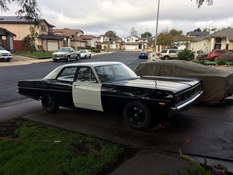 December 9, 2016
The original door panels from this car were trashed and not useable, fortunately the panels in the Other Polara were in great shape but the wrong color. I had the original color matched in SEM vinyl paint and the match was perfect.
The Polara emblem was first masked off and the panels were painted gray. Once the panels were dry they were masked so the lower portion painted black.
While I was watching paint dry I tried a different color on the a-pillar trim, better, not perfect.