Released into to Wild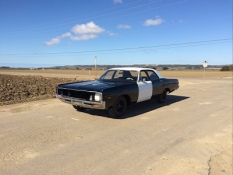 November 19, 2016
All ready for a drive I called my friend and engine builder to go for a test and tune. We took it out on some local roads first and he made some adjustments then we went and filled it with gas. From there it was onto the highway for some runs at speed (highway speed) and some hill pulls. All along he was checking the oil pressure and making notes on tuning. Because of the oil pressure he wanted to change grades of oil and do an oil change. After we changed the oil he made some adjustments and went for a drive again.
All in all it did quite well considering it had an eyeball alignment.
After my friend left I continued with the trim, the CHP drilled through one of them so I needed to be sure I lined up the holes before putting the rivets in.