Bracketed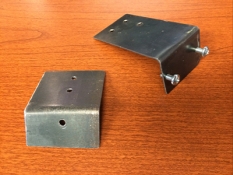 March 2, 2016
Before the dash could go in I needed to fabricate a couple brackets (CHP stuff) one to hold the microphone, the other a fuse block under the dash.
It will be painted black before going on the car.
The CHP had used sheet metal screws to hold this to the plastic, I chose to use machine screws to a plate on the backside.