Drilled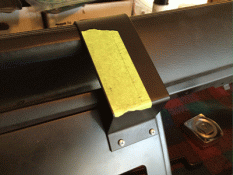 January 2, 2016
This update may not be for the faint of heart.
A little while back I had my dash pad done by Just Dashes and Iím now starting to do the dash assembly. The first thing I needed to do was mount the shotgun bracket, a friend had the brackets made but there were no holes drilled. I started off placing it over the holes in the dash frame that were put there by the CHP. With the bracket in place I located the lower two holes from the backside with a scribe.
The bracket was screwed into the original holes and the top taped up to protect the powder coating. The bracket wasnít shaped to fit the dash pad and needed to be bent, a couple reference marks were placed and the bracket was put in the vice and beat with a 5# sledge to shape. Two mounting holes were drilled into the bracket and it was once again screwed to the dash frame. This time the two upper holes were drilled through the nice new dash pad, even my friend could bring himself to do this.
Additional holes were drilled and tapped to mount the reading light with an addition hole through the bracket ad pad for the wire. Next up was the radio mounting bracket. Another bracket made by my friend again not drilled. Like the shotgun bracket I needed to line new holes up with existing ones in the dash frame, one end was easy as you could get to the back side, the other had to plotted as it was double wall at that point. The radio and speaker mounting holes will need to drilled and tapped.