Nose Job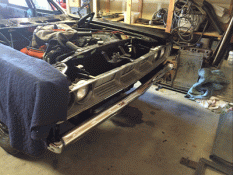 November 7, 2015
The grill went in next with no issues, I did replace all the studs.
Once the grill was in I was good to put the bumper on, normally a two person job I was able to get it in place and bolted in.
Over the weekend I had a friend over to help on the car and called another over just to help with the hood.
The hood took about 1-1/2 hours to get aligned, between moving the hood around and moving hinges we got it, although I was happy with it after about 20 minutes.
Before we cleaned up we test fitted the push bar assembly that I had made, it is a copy of a genuine 69 CHP bar. The holes in the frame lined up perfectly, the braces on the top of the bumper will be added once the car is done and the ride height is finalized to position the bar square to the road.
While my engine builder was there to help with the hood we ran the engine some more during which we had to replace the starter that was stuck on.