Air Conditioning Box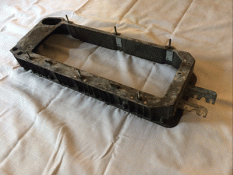 October 25-31, 2015
Now that I have the condenser and heater core back from being inspected I can move forward with the air conditioning box assembly.
First up was applying the seals to the condenser, once those set up I went to put the condenser in the housing and one of the studs didnít look right, broken. After a quick break to remove the stud and JB weld a bolt in I was back.
Next up was the heater core and rear housing, the rear housing has a few doors that each needed a seal or two as did the housing itself. On the housing I went to clean the threads on a mounting stud with a die and the stud ripped the housing, fortunately I had another housing that was actually in better shape. I reinforced the stud on the backside with JB Weld and transferred the doors.
Once the different seals had a chance to setup the rear housing was screwed to the front housing. With a couple more pieces put on I had a box that was ready to install.