Column Parts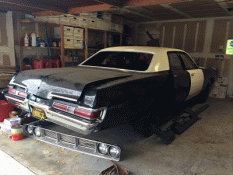 August 22, 2015
Today marks five years working on this car, August 22 2010 I brought this car home and began work immediately (well the next day). Here have been times I have tried to estimate the days and time put into this project and there is no doubt that if this was a perfect world Iíd be done already. Early on it was money then one vendor or another with custom parts. Even still I have various parts about being refinished.
There is no doubt that Iím in the home stretch and look forward to the day I back this car out under its own power.
After a week in vinegar the steering components are cleaned up, I'll detail those when I reassemble the column. Iíve started cleaning up some of the rusty steering column parts, the shift tube was put in a small bucket of vinegar to clean up the lever end then the shaft was put in a piece of PVC pipe to clean. Using the pipe save on the amount of vinegar needed.
The original shift lever was covered in rusty pits so a new one was acquired but it is missing the cap, will need to try and transfer that.